Well, after that last entry about microscopes, telescopes, and binocs, we had another flood of emails asking us about CHEAPER ideas. Here's a sample:
"Thanks for the information – we'll save this for when we're ready. Is there anything we can do now that's a little cheaper? I have four kids, and getting each of them their own microscope is not in my budget, let alone a telescope!"
Okay, so here are a set of ideas that range from FREE to under $100. While we still think it's important enough to start a pickle-jar savings account for those higher-priced items, here are a few ideas to get you started when there's too much month at the end of the money.
Encourage your child to make use of all senses in discovering the surrounding world. Stimulate curiosity about the feel of textures and materials, characteristic smells, sounds, tastes, weights and sizes of things. Train the child to look carefully and to see beyond the surface appearance of the environment.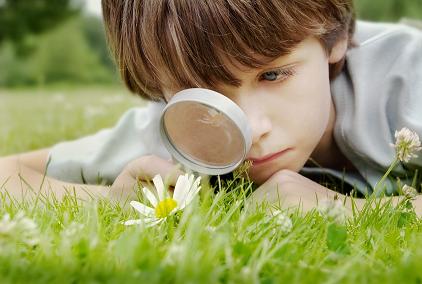 Children are amazingly curious… encourage them to find answers to questions by observation and through references, either at home or in libraries and museums. Some museums are online, like the Exploratorium in San Francisco!
Let the child manipulate and learn about familiar objects: a dripping faucet, the household water system, a nutcracker, an old doorbell, discarded appliances, locks and door hinges, household plants and gardens. Start asking questions about how stuff works.
When making household repairs, servicing the family car or other domestic equipment, include your child. Natural scientific and mechanical skills can be discovered and developed in this way, and many scientific principles can be demonstrated in firsthand and practical ways, using the scientific method.
Subscriptions to scientific magazines: Scientific American, Popular Science, Popular Mechanics, and MAKE Magazine are fantastic. You can also check out Sky & Telescope and Astronomy magazines.
There you have it – ideas and projects to set your mind spinning and get you moving in science. Let me know how it goes!
~Aurora